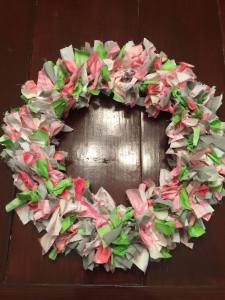 Do It Yourself Fabric Wreath
We love making wreaths, although the process can take some time it can actually be quite relaxing. We wont mislead you learning to make any kind of  wreath takes a lot of patience, tons of fabric, and your hands will be tired when you finish. However, the end product is amazing and something that you will be proud to display. The fun thing about making wreaths is you can do it while sitting on the couch watching T.V. or just relaxing in bed. You can throw the fabric in piles and create something beautiful with out putting tons of thought into it. Making a fabric wreath can be a very inexpensive craft (look for fabric on sale or use old clothing) and it can be expensive (you will use tons of fabric) so watch how much you spend per yard on fabric when doing this project.
The best part is fabric wreaths are pretty easy to make you just cut and tie so even a novice crafter can make one without having to put too much thought into them.
Here is a list of materials you will need.
Ready… Set… Get to Crafting!
Materials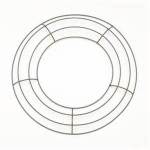 5-7 Fabric patterns or prints
Step by Step Instructions
First step is lay your fabric out on your cutting mat. Use your rotary cutter and cut your fabric in 1″ wide by 6″ long strips (recommended). Just set aside all your strips into a pile of by pattern or color. I keep mine together and organized makes it easier when you go to make the wreath. This is helpful when you are rotating between each color or pattern you can just grab one from each pile as you go along. (You will have tons of little strips when you are done).
Next once all your fabric is cut  you want to start tying the fabric on to the wreath form. Tie a single knot (facing you). I always start on the inner ring (my preference) Keep tying and adding fabric strips rotating through the miscellaneous ones you're using. You want to keep tying and pushing fabric together to give it a more full look. You will eventually make your way around entire hoop. Then just continue on the other rings until you are satisfied with how full it looks. (Keep in mind the more strips the fuller your wreath will end up looking so pull those knots tightly together.
Once all your fabric has been tied you want to take your sheer ribbon and make a loop (which you can use to hang your wreath from). Just choose a color that matches with your theme. You can also add any additional decorations such as a wooden letter or flowers whatever your creative mind thinks of.
Finally hang your wreath and enjoy you earned it!
This craft is easy to do so share with your friends! It does take some time but you can always break the project up. Spend one day cutting fabric and maybe come back another day to tie knots. I always recommend using multiple patterns and colors to make it yours. You can hang these anywhere on your door on you wall or even in the middle of an old window you re-purpose for your home decor. Be creative add bunting or a cute sign to the middle.
You can also make a fabric garland with these materials. We made one for a craft show to go around our table as a table skirt and we loved it. You and your work area will be a mess when you are done. I enjoyed making this wreath and I am sure I will have more to show in the future. Craft away!
---
Hope you enjoyed this DIY tutorial. Please like and share our articles with our social media buttons below. Also please subscribe to my blog so you receive updates when a new article is posted so you don't miss out!
Here are some other rag wreath items I have made in the past. Tons of variety of looks and fabrics.